Exquisite labor pains
By Valérie Bah. The photo is a still shot from the movie " Jesus and the giant" by Akin Otomoso
Brothers and Friends,
I want Liberty and Equality to reign in Saint Domingue. I am working to make that happen. Unite yourselves to us, brothers, and fight with us for the same cause.
Your very humble and obedient servant, Toussaint Louverture. General of the armies of the king for the public good.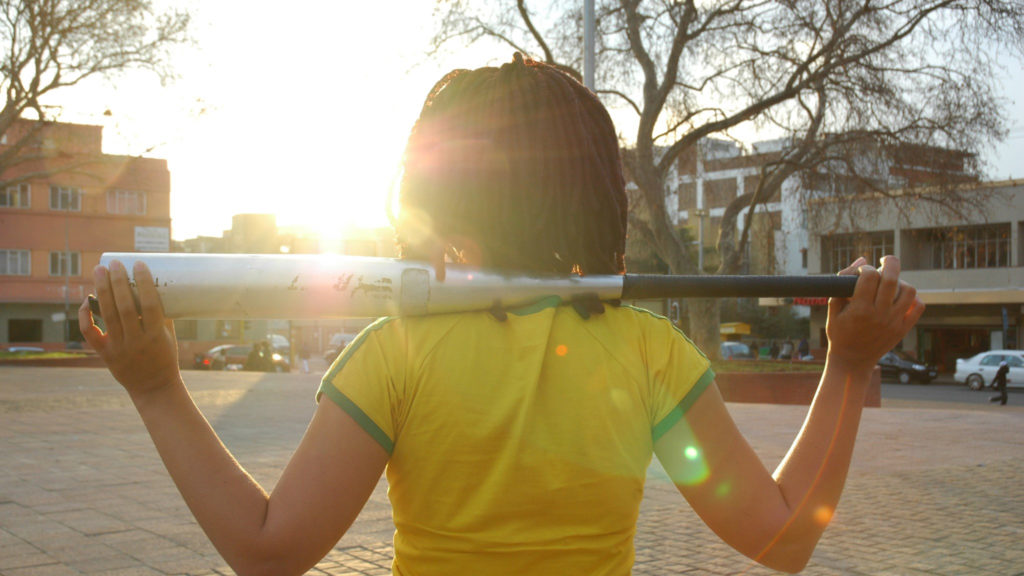 Blood on the Streets
The cordiality in this Haitian revolutionary's letter chills me. It contradicts a salient fact: Haiti's narrative of independence is fraught with violence. Night raids. Decapitated slave masters. But the gore was not an unprovoked or isolated phenomenon. In the late 1700s, the cruelty of the slavery on the island of Saint Domingue (present-day Haiti) spawned abortions and infanticides by mothers who refused to birth children in hell. Yet the brutality of the slave revolts takes after the French Revolution, which also inspired the American Revolution, and was replicated in other parts of the world by an educated and thirsty critical mass of citizens who had nothing to lose. Often, bloodshed stands in for revolution.
Violent, cathartic iconography
In the audio-visual realm, I recall the female protagonist in Akin Omotoso's film Jesus and the Giant (2008), who bludgeons a male abuser in retribution for her battered friend. More wanton, rapper Sid the Kid in her music video for "Fastlane," speeds down a highway gunning down men with her same-sex love interest. Both emerge from homoerotic protective instinct. Are these images merely meant to shock? In any case, they join a long line of revenge fantasies, elevated from the ranks of Quentin Tarantino's Django Unchained, because they don't whimsically rewrite history or incite the audience to laugh.
Flight To Flight
Novelist Marlon James imagined Lilith[1], in The Book of Night Women, a green-eyed house slave as a force of nature, who runs on fear and instinct. Lilith's life is defined by violence, back-breaking labor, rape, yet she remains fierce. She strikes when backed into a corner. Ironically, a love affair with a tender master subverts her natural strength. Given the oppression implicit in their relationship, it's a confusing love. Eventually, their love is so confusing that it undermines her goal of abetting a slave revolt. Their fondness is anathema to a freedom that must be delivered painfully.
Richard Wright explores this painfully-delivered freedom in Native Son, through Bigger Thomas, a black boy who works for a white family. The family's matriarch nearly catches him in her daughter's room—a proximity that is tantamount to rape in the America that murdered Emett Till. While silencing the daughter with a pillow, Bigger accidentally suffocates and kills her. This irreparable damage sets Bigger running in cold sweat from the authorities, from White Supremacy. But for a moment, he's free. Here we have the portrait of a man whose environment will not let him live, unless he fights back or preemptively. Yes, it is centered in rage. But who bore such a vessel for destruction? In introducing the novel, Wright admits to an uncanny motivation. Referencing his first, tamer novel, "Uncle Tom's Children," he said,"I found that I had written a book which even bankers' daughters could read and weep over and feel good about. I swore to myself that if I ever wrote another book, no one would weep over it; that it would be so hard and deep that they would have to face it without the consolation of tears. It was this that made me get to work in dead earnest."
Calm Down
We're told that anger is an unproductive emotion. Wright's white contemporary Katherine Ann Porter's expressed her horror at him and his peers, "I can't read them. I'm so tired of all that hatred and poison. They've all had such horrible lives—such horrible experiences—that it's left them with dreadful minds. James Baldwin, I think he was insane.[2]"
What exactly bothered Porter, whose career spanned the US' civil rights movement; was art exclusively meant to beautify, to coddle?
I wonder if there is a masochistic kind of love in violence and whether that violence is the first spark of social conscience. If so, it is the kind that rips you from indolent existence toward consciousness. As Audre Lorde said, "The learning process is something you can incite, incite like a riot." Yes, it hurts. But it's also damned good for you.
Does the banker's daughter cry for you? We thrive on beauty, not the saccharine. Love, rather than sentimentality inspires transformation. From time to time, passion forges a path toward revolution.
[1] "Lilith," is an apt reference to the biblical character who thwarted men for the liberty to do things her way.
[2] Givner, Joan. Katherine Ann Porter: Conversations. University Press of Mississipi.1987